How beautiful is this image of the Capitol Building? It was taken between 1918 and 1920. Source: Library of Congress
This is an old photo of J.P. Morgan walking in front of the Capitol Building in 1912. He was in town to testify before the Pujo Committee. Source: Library of Congress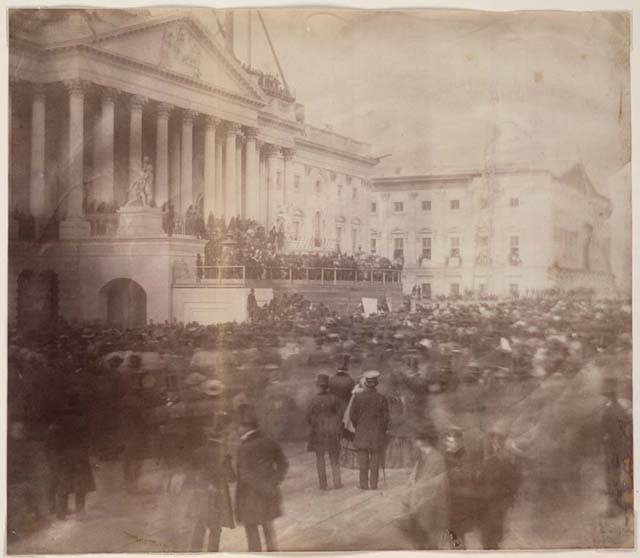 This is an extremely rare photograph of James Buchanan's Inauguration at the East Front of the Capitol Building on March 4th, 1857. It's a little blurry and not the highest resolution, but amazing nevertheless. The exposure...
This is a beautiful photo taken from the Capitol Building in 1936, looking down the Mall at the Washington Monument and the Smithsonian. Source: Cornell University Library
Thanks to GoDCer Mollie for sending this in. It looks like a photo from sometime in the 1920s.
It's been a glut of Capitol Building photos this week, but I'm sure you're okay with that. Especially, since they're amazing old photos. Here's another great night shot of the building in the rain, this time...
We posted a cool night photo of the Capitol from 1921. We found another great one, this time from 1907. This was taken by Ernest Crandall. They never get old do they? Source: Library of Congress
This photo is awesome. It was taken in 1921, from the steps of the Library of Congress. And, if you like it, you're sure to like this one, and this one. Source: Library of Congress
What an excellent photo. It's labeled as being sometime between 1900 and 1920. Any GoDCers out there able to pinpoint the actual date? Source: Library of Congress
This is a cool old painting from the early 19th century. It shows the Capitol Building as it would have looked during the first decade of the 1800s. Source: Library of Congress