Here's a fascinating old advertisement sent in by a GoDCer. Nancy sent in an old ad for her great-great grandfather's business. Source: GoDCer Nancy
Here is a cool series of photographs from the 1850s, when the Department of Treasury's building on 15th St. was under construction. Source: Library of Congress We have a couple other great photos of the Treasury...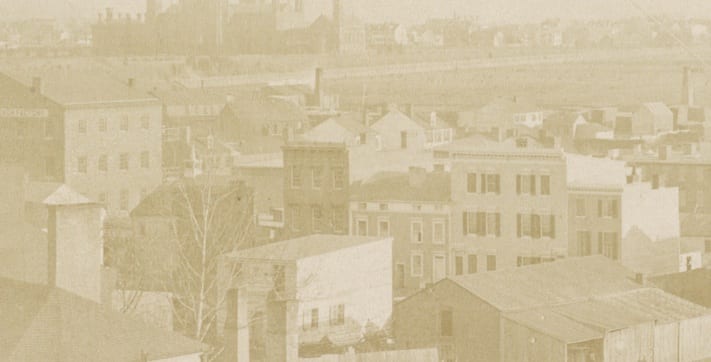 Now this is a really super old photo of Washington from around 1857. Click on it for a much larger version to study it. I believe this is a view looking southeast, and the Washington Monument...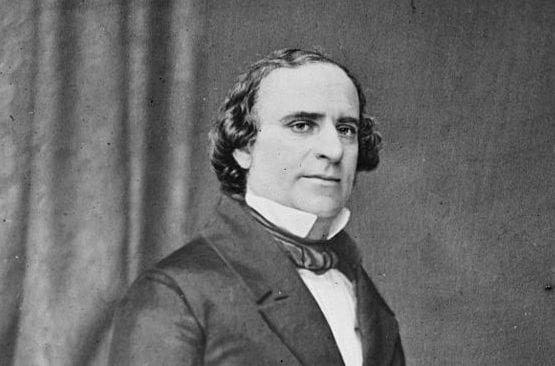 We came across some interesting history while digging through the rabbit hole that is Wikipedia. David Levy Yulee, of Florida, was not only one of the first senators from that state, but he was also the...
Know any sober gardeners in the area? If so, in 1857, the could have earned $200 per year, with room and board. Good Hope Hill is an area in, what is today, Anacostia. It was later...
This is an old advertisement for railroad tickets between Washington, Baltimore and points west. A ticket from Washington to Cincinnati was $11, Chicago was $18, and St. Louis was $26.50. That ticket to St. Louis is...
Here is an interesting video that we found, showing a collection of really old photos of D.C.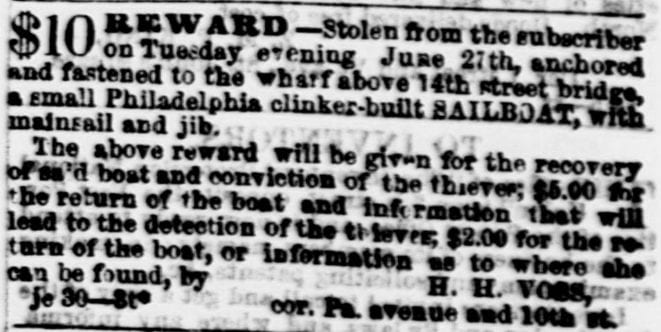 Here's an ad in the paper that you're not terribly likely to see today. It was printed in the Daily Evening Star on July 5th, 1854. Source: Library of Congress I couldn't find anything about the...


This is so cool. Montgomery C. Meigs placed an advertisement in the Daily Evening Star on August 1st, 1853, exactly 160 years ago today. Meigs was seeking skilled bricklayers to help in the expansion of the...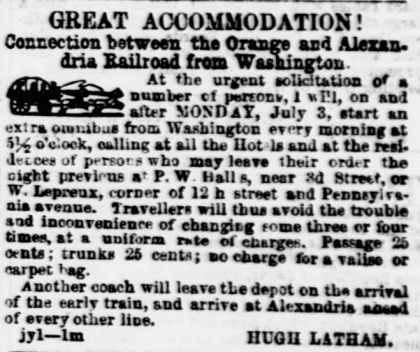 Now this is a cool old (really old) advertisement from the Daily Evening Star, printed on July 5th, 1854. It's an advertisement for omnibus or coach service to Alexandria. Source: Library of Congress