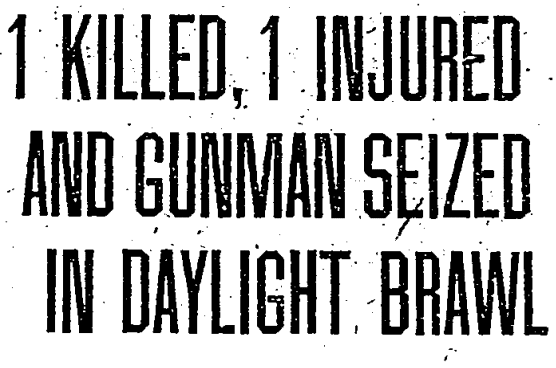 Below is a story we came across from The Washington Post, printed on December 29th, 1924. Remember, this was during the depths of Prohibition, so beer was non-alcoholic (and pretty terrible).

George King and Joe Nally, said by police to be notorious gunmen, went on another spree yesterday and killed, they say, "Good Old Tom" Brady, colored, in a near-beer saloon at 807 North Capitol street. Joseph A. Fitzgerald, 22 years old, 729 North Capitol street, was hit above his right eye with a beer bottle. He was treated at Sibley hospital.

…

The fight occurred about 4 o'clock yesterday afternoon. According to the story developed by the police, Brady was in the saloon cleaning up with Fitzgerald and Benjamin F. Dorsey.

Nally and King are said to have driven up in an automobile of expensive make and attempted to borrow several glasses. Loan of the glasses was refused and they sought to drink from a pint bottle of whisky which they had with them, police said, who moreover declare Fitzgerald and Dorsey succeeded in ejecting them from the place but that they came back and broke in, ripping the lock from the door. One of them, said to be King, whipped out his revolver and shot Brady twice through the body and also shot at Fitzgerald, it is said. The bullet went wild and tore through the wall. Nally is said to have been the one who struck Fitzgerald with the beer bottle.
Pretty crazy story. By the way, the address is roughly where H Street meets North Capitol St. The story continues.
Nally and King are said to have ran to the Penhurst apartments, at 47 H street northeast, headquarters detectives were later informed, but a close search there revealed no trace of them.

Brady was 44 years old and had been working in the saloon for nearly 25 years.

Both Nally and King, police say, have long criminal records. King is said to be a hi-jacker or repute while Nally is awaiting trial in connection with the $13,000 Piggly-Wiggly holdup case of several months ago. He was released in bond of $6,000 two weeks ago. Following the holdup Nally was at liberty for some time before his apprehension in New York. Three other men are serving sentences in connection with the robbery.

Nally and King are both about 27 years old, small and thin of stature but of good presence. In their realm they are considered "dandies" and quick shooters. Nally is said to have killed a man in New York but was acquitted when it was proved his victim was a "stick-up," whom Nally had beaten to the trigger.
For those of you unacquainted with 1920s slang, a "dandy" was a man who was known to be a snappy dresser. The piece continues and mentions that King had been arrested 27 times between 1921 and 1924, a pretty impressive criminal record. Also, it was alleged that a woman was in the car when the two of them drove up, but she was not located.
Nally eventually gave himself up, but the search continued for King, including a full cordon around Baltimore, as it was alleged that he fled north. The story continues below and picks up with the search for King. Oh, one more thing. The guy hit in the face with a beer bottle, Fitzgerald … his brother was a cop.
A garage next door, where one report said the men had hidden in the furnace, was "shaken down," as were other places nearby. A round-up of the city's "dope joints" was made on the basis of information that Nally and King were "hopped up when they went wild."
This story eventually made it all the way to the Chicago papers as King was still on the run. The following day, December 30th, King was reported to still be on the run. An article in the paper that day alleged that King administering a beating to a local prizefighter by the name of Joe Montano when the two of them argued over a girl and Montano was his over the head with the butt end of King's revolver.
Fast forward a few more days to January 3rd, and the papers reported George King's capture. Where he was located will probably come as a surprise.
George Michael King, wanted in connection with the fatal shooting Sunday of "Good Old Tom" Brady, colored, in a near-beer saloon at 807 North Capitol street, was arrested last night in the Chevy Chase home of Valentine Coudar, a former policeman. He was charged with murder.

Miss Gertrude Hyman, an employe of the Shipping Board, of 3012 R street northwest, was the innocent cause of King's arrest. Learning she was a friend of King, detectives trailed her to the Chevy Chase house, where King was captured.