On November 17th, 1927 a large tornado ripped through the area, destroying over 200 homes in D.C. and 300 structures in Alexandria. Up to 50 people were injured, but we only found one reported death, which was the result of a lightning strike. Damages were estimated at $1 million.
Below is an article that we found in The New York Times, detailing the damages.
A tornado hit the Naval Air Station and the Washington Navy Yard immediately after 2:30 o'clock, wrecking hangars and planes at the former, damaging twenty buildings, including the commandant's house, a historic building occupied for more than a century, and causing a loss of $300,000 to both naval plants.

The weather instruments in the observatory at the Anacostia Air Station recorded a gale of ninety-two miles an hour during the height of the storm and a drop of 0.46 in the barometer almost instantaneously at 2:31 o'clock, when the fury of the tornado struck.

The tornado appears to have been wholly local, having started in the Potomac River with a waterspout, just below Alexandria. It swept over the latter, five miles south of Washington, a place rich in associations of George Washington; headed across the river to the Naval Air Station, passed directly over the Navy Yard, swept a narrow path to Fifteenth and East Capitol Streets, crossing Benning Road near Eighteenth Street, and did some damage at Hyattsville and Bladensburg, Maryland towns, five miles northeast of the capital.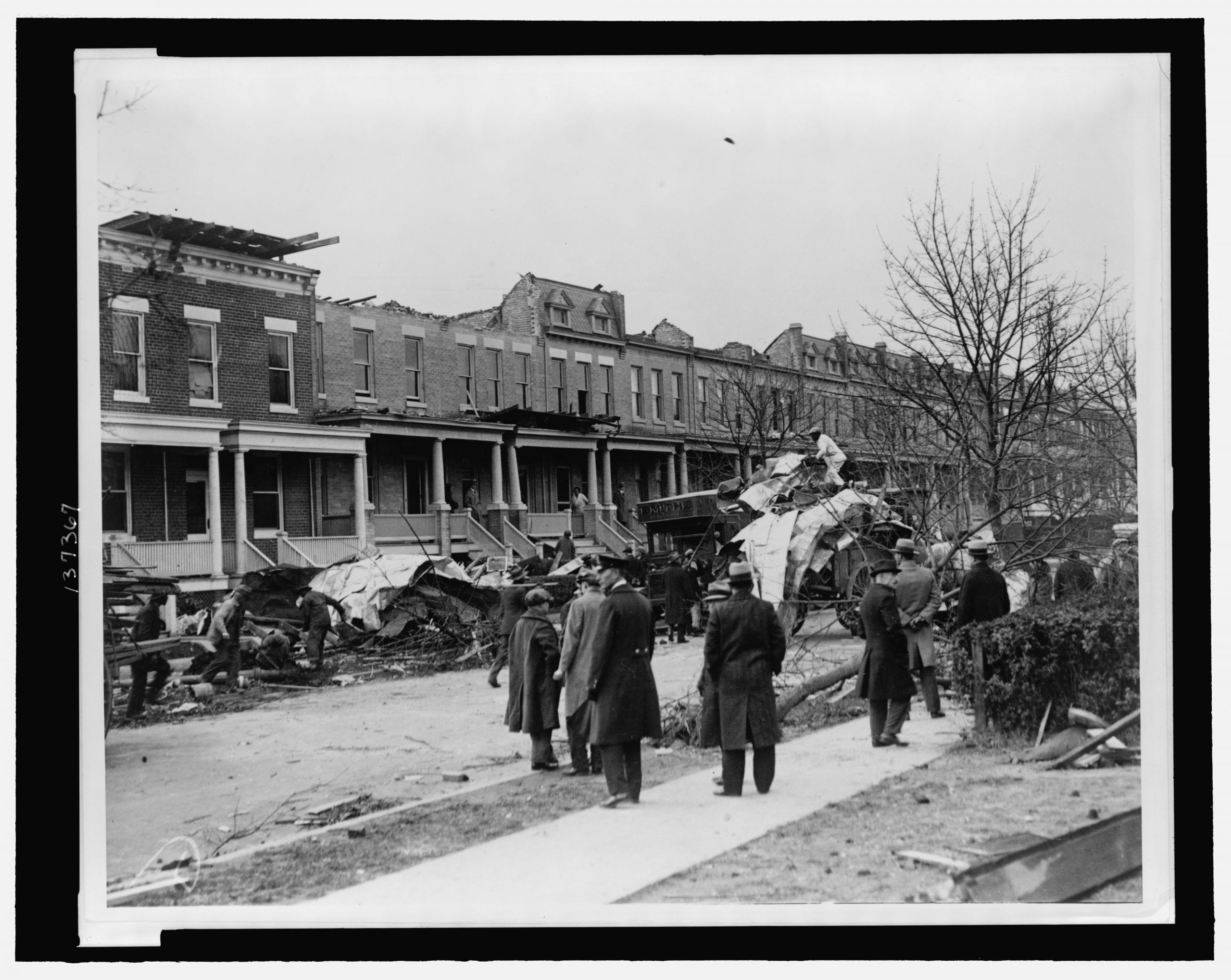 Source: Library of Congress
Source: Library of Congress 
Here are those same row houses today on Google Street View.
Source: Library of Congress
This one is the scariest of all the images, showing a large building completely destroyed by the tornado.
Source: Library of Congress