If you live in Arlington, you've probably driven past this place a thousand times. The shopping center we're talking about sits at the intersection of Columbia Pike and Glebe Road, Westmont Shopping Center.
The Washington Post had a brief article on June 16th, mentioning the new shopping center that was going up in 1940.
Another shopping center is scheduled for Arlington, Va. Progressive Building Corporation, headed by Hyman Eckhaus, president, has purchased as the site, more than 90,000 square feet at the northeast intersection of Columbia pike and Glebe road, it is reported. The transaction was handled through the office of Kelley, Steele & Branner and Gilliam Parramere. The structure described as an outstanding one, has been designed by E. J. Conner.

The projected center will represent an investment of approximately $250,000, and will be ready for occupancy October 1. According to estimates, density of Arlington traffic has increased almost 100 per cent since last year's count. On this basis, it is estimated 12,000 cars on Columbia pike and 600 on Glebe road will pass the site daily. Kelley, Steele & BRanner will be the leasing agents.
Ha! Only 600 cars on Glebe Road each day?
Check out the drawing of the shopping center from the article.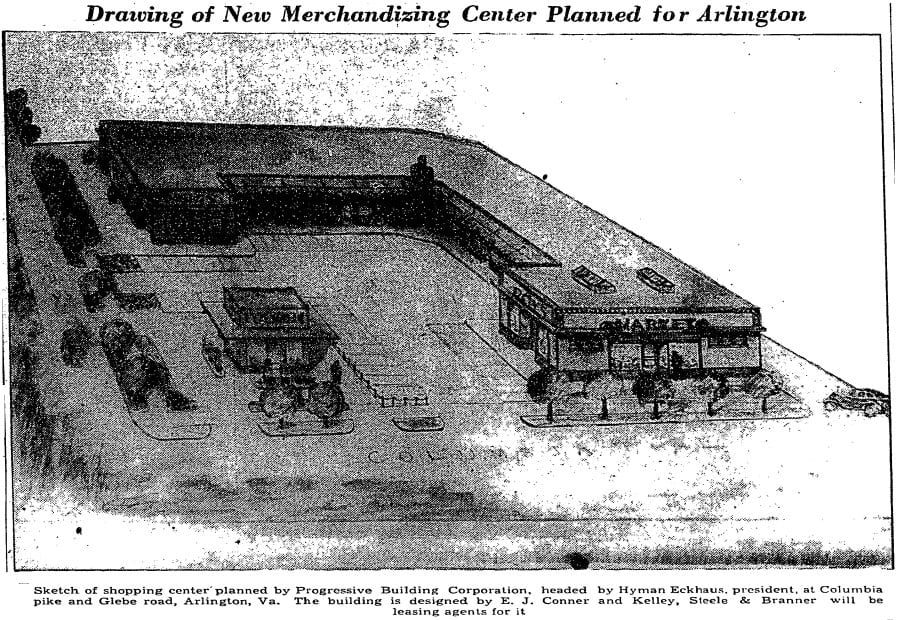 Source: The Washington Post