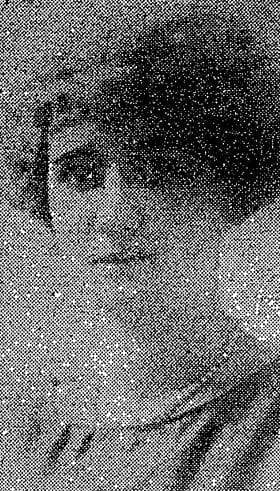 This is not an article you're going to see today in the newspaper. Although, you're more than likely to see a scene like this in a movie.
This brutally gory article, published on March 6th, 1927, details a horrific accident on Florida Ave. NW at 1st St. If you were having a drink at Big Bear Cafe, you would be about a block away from the accident scene.
Miss Barbara C. Clements, 23 years old, a teach in the Pierce publish school and living at 1327 Maryland avenue northeast, was fatally injured when an automobile she was driving was in collision with another car at First and Florida avenue northwest, shortly before 7 o'clock last night.

Miss Clements was on her way to her home to meet her brother John, 21 years old, who was going with her to St. Aloysius' church to start a novena. John, who was nearly prostrated with grief sighed:

"We were going to church to ask for a special blessing and this is what we get."

Harry Barton Hart, 48 years old, a service manager with the Potomac Electric Power Co., driver of the other car, was arrested and taken to the Second precinct station to await the action of the coroner's jury.

Miss Clements died at Sibley hospital a few minutes after she arrived there. Her head was almost severed.

Dr. Samuel M. Becker, of the hospital staff, who treated her, said died probably from a broken neck. Her left arm and shoulder were fractured.

Three other women were in the automobile which Miss Clements was driving. One of them was Mrs. E. H. Griffith, 1430 G street northeast. She and the other two suffered nothing more than shock.

Hart suffered a strained back as a result of the accident. The crash took place in the center of the intersection, and Miss Clements was thrown through a window.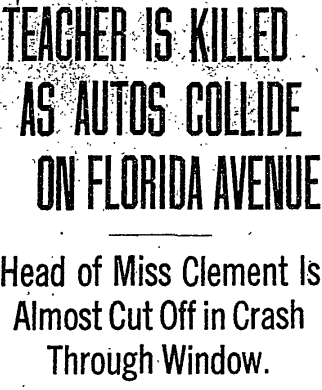 Joseph Leitch, 17 years old, 4911 Seventh street northwest, was the first person to reach the scene. He carried Miss Clements from the wreckage and placed her in another automobile which took her to Sibley hospital.
Miss Clements' parents were prostrated with grief when told of their daughter's death. The girl's mother had a premonition of her death. When informed of the accident by a reporter for The Washington Post, Mrs. Clements became hysterical with grief.
The young school teacher is survived by her parents, six brothers and two sisters. She taught a first grade class in the Pierce school. Miss Clements was a student there about ten years ago. She had been teaching about four years.
Wow. Nearly decapitated and the paper reported on that. Crazy.