This is the first guest post by Jason R.
This blog is about "uncovering stories that have long been forgotten." It is about knowing a "little more" about the community we find ourselves in. I know that Mr. Ghosts of DC is fascinated by history, but as a social scientist, I'm going to push a little bit further.
The reason why this blog is interesting (and what I hope to do with this little three-post arc) is that I think we can gain some knowledge by engaging in a little bit of reflection about where we have come from and where we stand today.
Basically, there will still be pictures somehow related to DC, but I'll say a few more words about these portraits of the past than usual. So, here goes…
My first thought was to find something interesting regarding the diplomatic community in Washington, DC. In the study of diplomacy, we have something known as the 'doyen' (or dean) of the diplomatic corps who is usually the longest-serving person in the capital city of a particular country. However, what about the wives and the diplomatic social circle? Amongst the wives of ambassadors, was there a 'doyen'? (Or 'doyen-enne'?)
Countess de la Rocca might have been one.
This September 13, 1913 portrait from the Washington Post notes that the countess is:
"… one of the most popular hostesses of the diplomatic circle."
It also reports that the Count and Countess have left their summer home in Deer Park, Maryland (on the old Baltimore & Ohio Railroad–which included Ellicott City Station, considered the oldest surviving passenger train station in the U.S.), and that the countess will spend some of the winter in Florida.
[Wait, were winters really that bad in D.C. around that time? Answer: yes. On January 13-14, 1912, Washington, D.C. recorded a temperature of -13 F (also known as -25 C).]
See here.
Unfortunately, the Post reports on May 24, 1914, that the Countess is accompanying her husband back to Paris, where he has taken up a new position (presumably at the Quay d'Orsai). No picture of the 'leaving-do' could be found, but we do have this: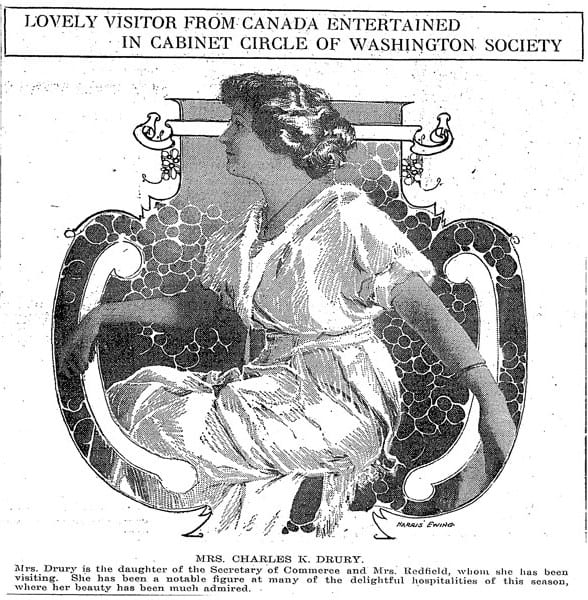 Regarding this "Lovely Visitor from Canada," the Post states:
"She has been a notable figure at many of the delightful hospitalities of this season, where her beauty has been much admired."
Indeed. But this struck me as not only oddly funny for its absurdity. It also brought two points to mind. First, it's interesting that the Post could both feature serious journalism and produce something that would be at home in an Us Weekly. Second, are these portraits in the Society pages fore-runners of Instagram and Flickr? Have we always been interested in what the celebri-rati are doing?
Probably.