This is a guest post by John (from The Lion of Anacostia), cross-posted here.
I walk the streets, alleys, back-cuts, and lounge on the corners of Anacostia everyday, every hour, every minute. Tour an abandominium or two. Reports and the widely held perceptions of violence and criminality in Anacostia, as I see it and know it, are over-rated. But that perspective is relative. After some quiet, over in Barry Farm folks are getting slumped once again. Youngsters are still bucking off shots late night in and around earshot of the 1400 block of W Street SE (formerly Jefferson Street), but this isn't the late '80s, 1995, or even the early 2000s (aughts).
Relatively speaking, if you're not in "the game," and/or wearing Foamposites, rocking a Helly Hansen coat, Anacostia is a small village where you can feel safe. But that's the mindset of someone who knows the community and the history.
Murder and violence is nothing new to America, to our cities, or to the streets of Old Anacostia.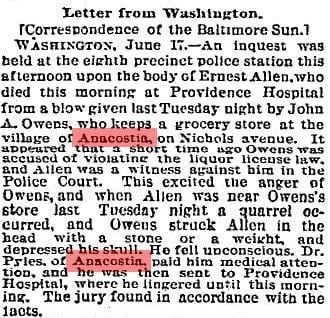 From the Baltimore Sun's "Letter from Washington," 1886,
Washington, June 17. – An inquest was held at the eighth precinct station this afternoon upon the body of Ernest Allen, who died this morning at Providence Hospital from a blow given last Tuesday night by John A. Owens, who keeps a grocery store at the village of Anacostia, on Nichols avenue. It appeared that a short time ago Owens was accused of violating the liquor license law, and Allen was a witness against him in the Police Court. This excited the anger of Owens, and when Allen was near Owen's store last Tuesday a quarrel occurred, and Owens struck Allen in the head with a stone or a weight, and depressed his skull. He fell unconscious. Dr. Pyles, of Anacostia, paid him medical attention, and was then sent to Providence Hospital, where he lingered until this morning. The jury found in accordance with the facts.
Related articles