Above is an advertisement from The Washington Herald from October 21st, 1922 showing Chevy Chase.
Source: Streets of Washington When the Chevy Chase Ice Palace and Sports Center opened on Nov. 23, 1938, it became an instant sensation. On opening day more than 2,200 people hit the indoor skating rink, bringing...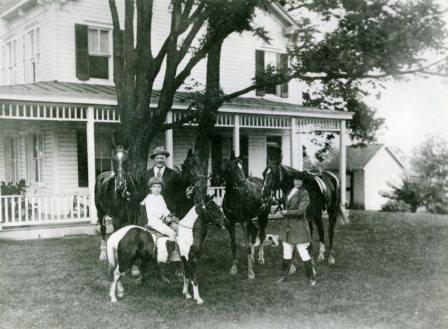 Andrew J. 'Cy' Cummings was a larger- than-life figure in the early 1900's in Chevy Chase, a football star at Georgetown, a successful farmer, a politician and a sportsman. Known as 'Big Cy, he made a...
GoDCer Charlie requested this the other day via Facebook and we wanted to oblige. It's a map of Connecticut Avenue from 1919 Source: Library of Congress Source: Library of Congress
Photos like this are great. Look at the old homes on Morrison Street back then and check out the Google Street View today. Also, check out how the streets used to be dirt roads. Source: Library...
These are a couple great photos of Chevy Chase Country Club in the 1920s, thanks to the Library of Congress.
If you lived in D.C. in the 1980s, seeing a police chase screaming down K St., or any other major thoroughfare, was not a rare occurrence. So, out of the thousands of chases mentioned in the...
Here's a great photo from November 1942. It's from the Chevy Chase Ice Palace.
Here's a page from the real estate section of the Sunday Washington Times on June 7th, 1908.
Do you attend The Chevy Chase Presbyterian Church? If you do, maybe you recognize the interior of the church. This photo from Shorpy dates back to 1924. Click on it for greater detail.