If you read my post "Stop Blaming Washington," you might get the impression that I'm a little upset over the shutdown and how our country blames Washington. Well, now I'd like to add another element of frustration. We know the direct impact of the shutdown … federal employees being temporarily out of work (but getting back pay). I'd like to add another human element to this story, and one that's really not fair to the victims.
Mrs. Ghost read a piece in the Washington Post the other day and shared it with me. There are a few dozen couples that have had weddings planned for months, maybe years, and were getting ready to exchange their vows at local National Park Service sites like the Jefferson Memorial or the National Mall. Well, given the situation that we're in, that's no longer going to happen because it's federal land, and the government is shutdown. In fact, there are probably a few hundred weddings across the entire country that are going to need a venue change as a result of 401 national parks being closed.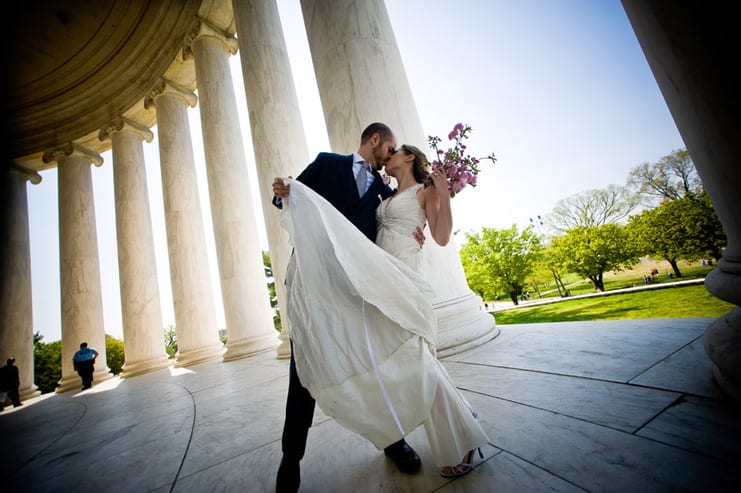 Source: Eiken Photo
You only get one wedding day — cynics and sarcastic comments not necessary here — and yes, it's really only one day, but it's really not right that these people are having their planned weddings ruined. They'll still get married, have families, and talk about how their wedding plans were messed up by a bunch of elected officials who couldn't compromise. But it's not fair.
I feel especially upset for them because Mrs. Ghost and I were married at the Jefferson Memorial. Our biggest worry was whether it might rain. That was stressful enough. It didn't rain, and it was the most incredible place for us to hold the ceremony, it the city we love. I only wish the couples I read about in the Post article could have the same opportunity.
There is a happy side to this story, and it comes from the National Cathedral. The Episcopal Bishop of Washington, Mariann Edgar Budde, is offering a backup plan to couple were had their weddings impacted by the shutdown. And, one of the unfortunate couples caught the eye of Stephen Colbert, who wanted to help, so he married them on air.