Check out this great old photo from 1885. Source: Library of Congress
Do you recognize the Treasury Building? This photo shows it back in 1860, before the Civil War. Source: Library of Congress
Here's a great series of images showing the Treasury Building under construction in the 1860s.
What an incredible photo of the Treasury Department. Source: Library of Congress
Does anyone know if this still exists? The photo below was taken in June of 1940.
Thanks to GoDCer Jim for sending this in via Facebook. His cousin Catherine has it hanging on her wall, and it's a photo of the opening of the V Drive at Treasury on April 21st, 1919.
Here is a cool series of photographs from the 1850s, when the Department of Treasury's building on 15th St. was under construction. Source: Library of Congress We have a couple other great photos of the Treasury...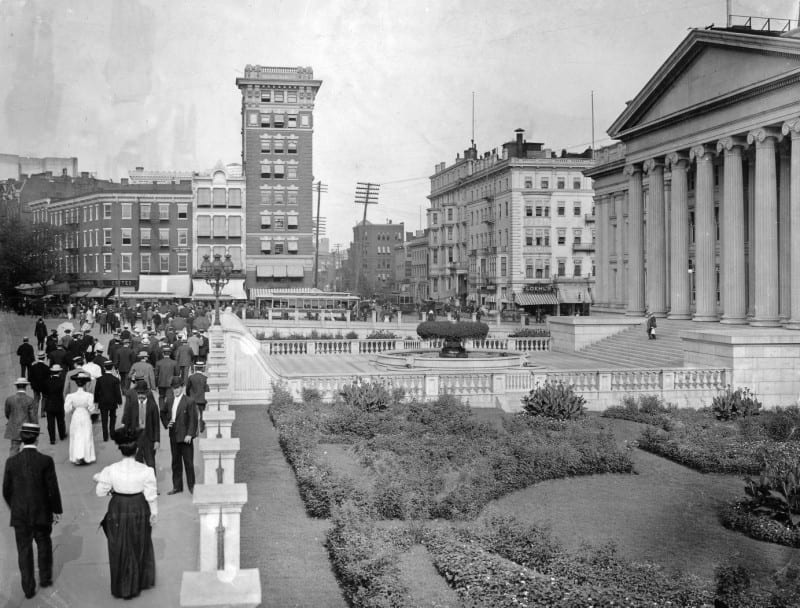 What a great photo. We uncovered this one at the Historical Society of D.C. website. Source: Historical Society of D.C. BTW, they have so many incredible photos that nobody gets to see because they aren't online....
What a beautiful photograph. This was taken by the Rotograph Company in 1905 with a eastward view down Pennsylvania Avenue towards the Capitol. Source: Library of Congress Below is the opposite westward view down Pennsylvania Avenue...
What an amazing, detailed photograph of the Treasury building.