I haven't done one of these in a while … so, GoDCer Jon, this is for you.
A quick Washington Post search uncovered an article about the buildings construction. This was published on June 15th, 1919 (this happens to be the day Pancho Villa attacks Ciudad Juárez, and kicks off an incursion into U.S. territory — read the related post about a senator's desire to annex Mexican territory).
Work on the construction of the Chastleton apartment building, to be erected on the northwest corner of Sixteenth and R streets northwest, will begin this week. The structure, which will be an eight-story fireproof edifice of the most modern contemplation, will cost $1,500,000.

The building will contain 500 rooms, grouped in 155 apartments from one to four rooms. All the apartments above the first floor will have private porches off the livings rooms. The exterior finish will be an artistic arrangement of limestone, both above and below the base, with select face brick and ornamental terracotta trimming.

The land fronts 94 feet on Sixteenth street and 252 feet on R street.

S. W. Strauss & Co. of New York, have underwritten a first mortgage 6 per cent serial bond issue of $700,000 on the property. The bonds are the direct obligation of the District Apartment Corporation, a concern controlled by strong financial interests. The mortgage is amortized and provides for monthly deposits of principal and interest by the mortgagor.

The first floor of the building will contain an elaborate lobby with several parlors which will be apogees of luxury. The interior will be beautifully finished, while the exterior will be of old English design, with limestone to the third floor and selected brick above with terra cotta trimmings. The apartments will be rented in suites of from one to five rooms at reasonable rates. F. H. Smith Company are exclusive agents for the new apartment, and have charge of reservations.
I haven't been in there in a while. What's the building like today? How are the apogees of luxury? Also, astute readers will notice that the article incorrectly located the building at the northwest corner of the intersection, when it's actually the northeast corner. Fact checker!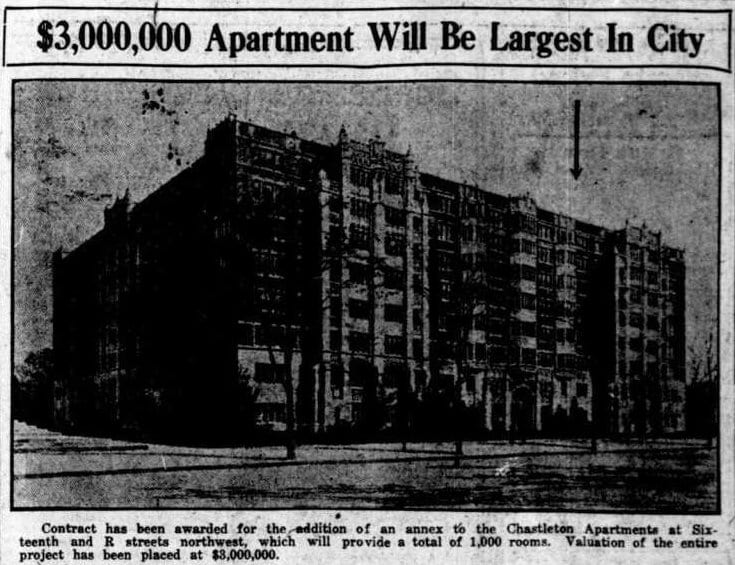 Another article from around the same time, this one in the Washington Times from November 1st, 1919.
Arrangements have been completed for the immediate construction of an annex to the Chastleton Apartment Building now in course of construction at Sixteenth and R streets northwest. The new section will be eight stories high and will front 140.5 feet on Sixteenth street with a depth of 252 feet. It will contain 155 apartments of from one to four rooms, besides kitchen and bath. All the apartments above the first floor will have private porches off the living room.

The annex will be constructed in the same architectural style and height as the Chastleton so that the structure will be one complete building, with a frontage of 234.5 feet on Sixteenth street and 252 feet on R street. It will extend from the corner of R and Sixteenth streets to within 40 feet of the Scottish Right Temple. This space is left to furnish light. The complete Chastleton apartment will contain 310 apartments and 1,000 rooms.

The transaction was handled through the F. H. Smith Co.

In connection with the financing of the Chastleton Apartment Annex, S. W. Straus & Co. have underwritten a first mortgage 6 per cent serial bond issue of $724,000. The total valuation of the property is placed at $3,000,000.

…

"The construction of the Chastleton Annex Apartment Building is the direct result of the enormous demand for apartment accommodations in the Chastleton Apartment Building on which we made a loan some time ago. This demand far exceeds the available supply of apartments, and the owners of the property estimate that applications already on hand are more than sufficient to rent the Chastleton Annex to capacity."

"We have great faith in the future of Washington and believe that as a distinguished residential city it will take rank with the great capitals of the world. There is an enormous demand for superior housing accommodations which will continue as the city grows in magnificence and important."

"From the standpoint of an investment in an apartment house property, Washington offers many splendid advantages, for no matter what business conditions might be in other parts of the country a great number of well-paid government officials and foreign representatives will retain their residence in Washington steadily."
Related articles