Almost 80 years ago, Washington had an express airline with service to New York, Philadelphia and Baltimore. At cruising speed, Ludington Airlines was able to get you up to the New York City within two hours — an astonishing feat at the time.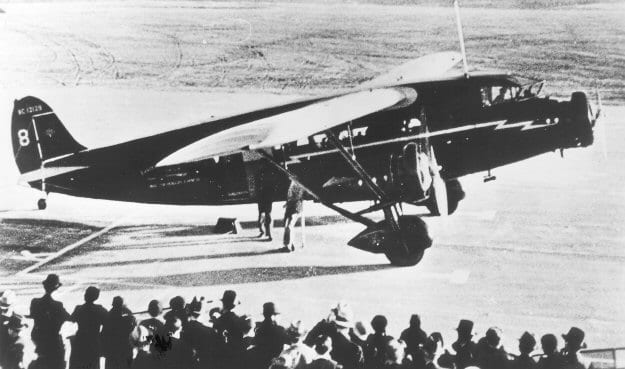 Brothers Charles and Nicholas Ludington founded their eponymous airline in 1930, based out of Philadelphia. The brothers put over a million dollars into the business with the goal of operating hourly plane service between the major east coast cities.
By 1932, the company was setting world recording for the number of passengers it was transporting up and down the Eastern seaboard. The Baltimore Sun reported on July 10th, 1932 that a new world record had been set the previous day.
Washington, July 9–Another world's record has been set by the Ludington Airlines, Inc., operating hourly plane service between New York, Philadelphia, Baltimore and Washington. The line recently carried its 100,000th passenger between Washington and New York, according to an announcement made today by James M. Eaton, airline president. The line has been in operation twenty-one months.

The carrying of 100,000 passengers in the space of twenty-one months has never been even nearly approached before, it was said, the figure constituting a world commercial airline passenger carrying record.

Inaugurated September 1, 1930, the Ludington Line recently increased its hourly plane departures by the addition of a number of half hourly schedules.

On June 4 the airline established a new high speed non-stop "special dispatch" service between Washington and new York using planes cruising at 160 miles an hour and making the airport-to-airport flight in eighty minutes. This faster service brings the downtown sections of both cities within two hours time of each other.
By 1933, the airline had been acquired by Eastern Air Transport, the precursor to Eastern Airlines.
Dulles Airport serves about 60,000 passengers on a daily basis now and in 2010 saw 23.7 million passengers through its terminals.
The Ludington brothers would be shocked.