Here is a good video we stumbled upon on YouTube. It was pulled together by Amtrak in 2008, on the occasion of the station's 100th anniversary.
Here is an interesting video that we found, showing a collection of really old photos of D.C.
This is some really cool old footage. It shows the 82 streetcar line running from Eckington, heading through northeast, up to Mount Rainier, Hyattsville, Riverdale Park, and College Park. http://www.youtube.com/watch?v=QpFCFILDOxs It's really long, but well worth...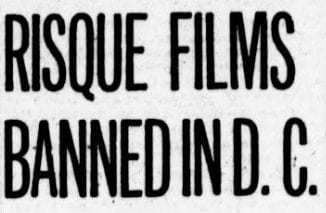 We're not exactly talking about pornography (there was a time when D.C. had plenty of that). This is a headline that we came across from April 8th, 1921, the beginning of the Roaring Twenties. An article...
Remember the days when you had to check the newspaper to find movie times? Those days died about 15 years ago, but for some reminiscing, check out this page from the Washington Post in 1969. Also,...