Photos of yesterday, featuring regular people and regular places.
Here's a great old photograph from 1946, showing the church at 10th and G St, near Metro Center. First Congregational Church (10 and G Streets NW) c. 1946. Bert Sheldon Photograph Collection, HSW. Source: Historical Society...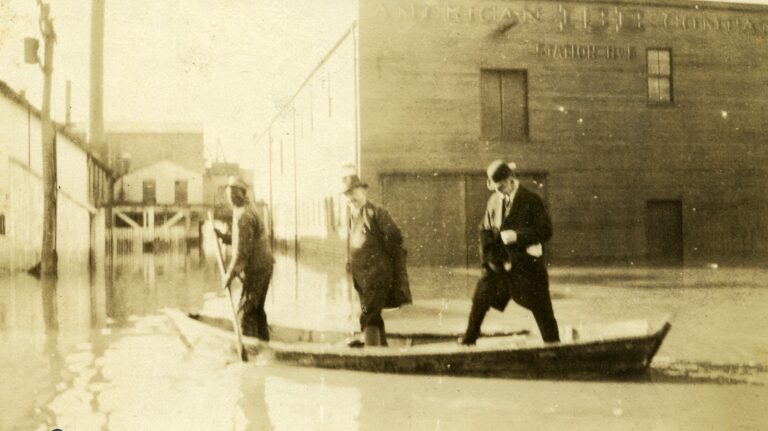 Check out this crazy photo. It's almost hard to believe, but there was a huge flood in Georgetown back in 1918 and this is what it looked like (sorry for the blurry photo). Thanks so much...
What's better than a photo of two nuns and a dog? Here's a shot from somewhere in the 1890s of Sister Beatrice, the superintendent of Providence Hospital (learn about it here). Source: Historical Society of Washington,...
Here's a great shot that we found on Flickr. It's the boat club just above Aqueduct Bridge (or where Key Bridge is today). Source: D.C. Public Library
Avid GoDC commenter Mike, sent along this great shot of the old Aqueduct Bridge. It's a really cool photograph from 1898, and in the foreground, you can see the Connecticut Pie Company wagon.
Terrific old photo of a woman in 1927, working at a D.C. sausage factory.
It's not very clear what's happening here, but it appears that the men are demonstrating some sort of safety scoop on the front of this car. Nevertheless … bizarre. Source: Shorpy
The kind folks over at Matchbox on 14th St. sent over a bunch of great photos from their building. Check them out below.
I'm busy watching playoff baseball (sadly, not our Nats) … cranking through the posts for next week and I wanted to share one immediately. Unfortunately, because of this government shutdown, you can't replicate what this family...
Take a look at the Google Street View of King Street in Leesburg today, at the intersection with Market Street. And below we have the exact intersection around 1920. Source: Library of Congress