Today is Thursday, July 15th, 2021. We looked back in the newspaper archives of the Library of Congress and found the Alexandria Gazette from July 15th, 1841, which also happened to be a Thursday. Here's what we found written in that issue as the news of the day, an interesting window into our region and the world exactly 180 years ago today.
The first thing that caught our eye on the front page was this notice to the paper and a black man named James White, who claimed to be free, but could not prove it with any documentation. He had arrived from Cuba on the Schooner Talma, captained by Benjamin Frazier.
So we were curious to see what we could dig up regarding the story, and a little Googling led us to this fascinating historical document, a letter written to the jailer of Alexandria County. If you remember your Washington history, Alexandria was still a part of the District of Columbia at that time, not being retroceded back to Virginia until 1847.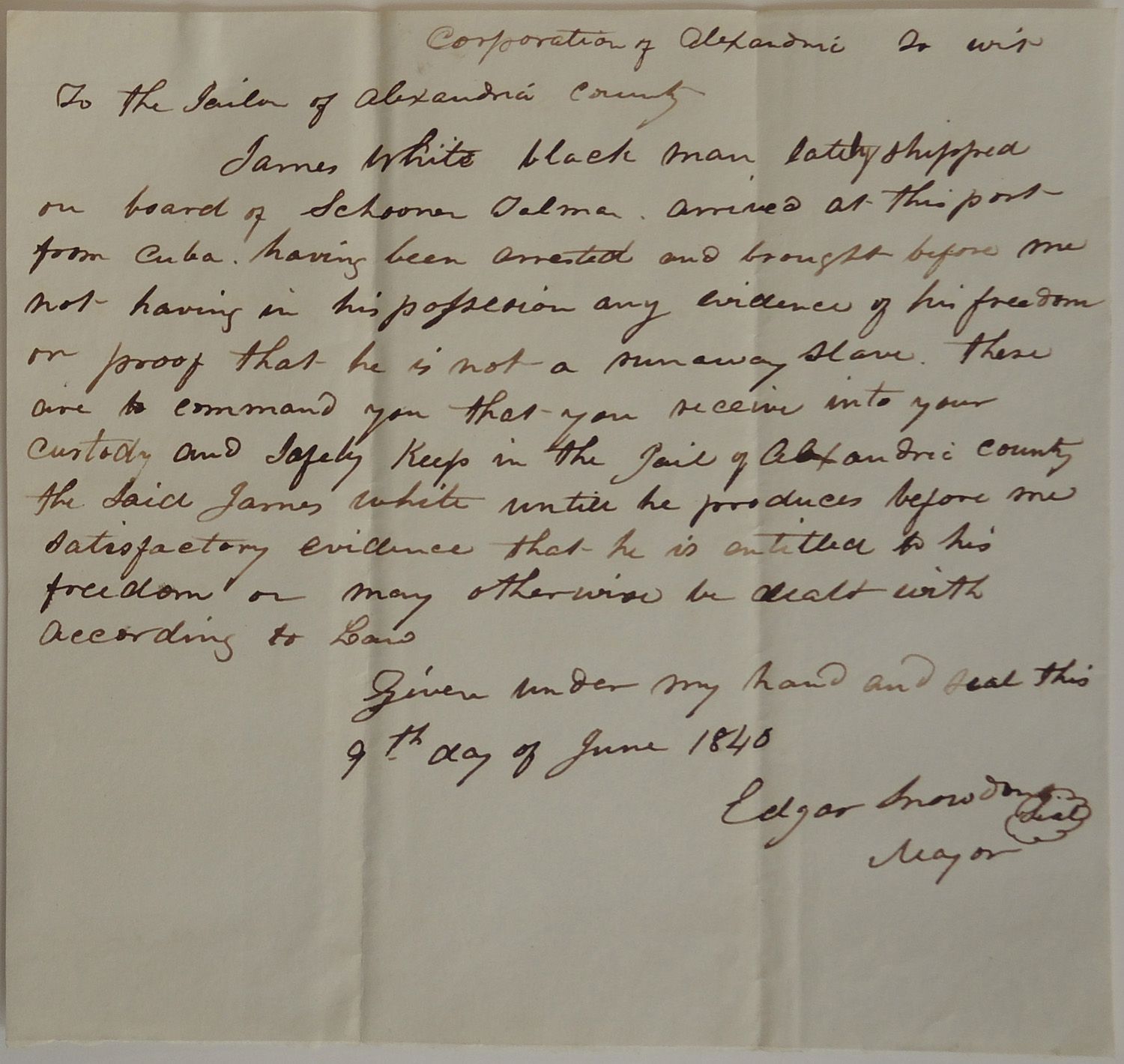 The note says as follows:
Corporation of Alexandria To wit

To the Jailor of Alexandria County

James White black man lately shipped on board of Schooner Talma. Arrived at this port from Cuba, having been arrested and brought before me not having in his possession any evidence of his freedom or proof that he is not a runaway slave. These are to command you that you receive into your Custody and Safely keep in the Jail of Alexandria County the said James White until he produces before me satisfactory evidence that he is entitled to his freedom or may otherwise be dealt with according to Law

Given under my hand and seal this 9th day of June 1840
Edgar Snowden (seal)
Mayor
An advertisement caught our eye for a steamboat excursion on the Potomac, which departed from Riley's Wharf in southwest Washington. A man could go by himself for 50 cents or be accompanied by one or two ladies for a dollar, or roughly $30 today. Am I reading that correctly that a man could bring one or two dates? Or is it a man and a woman or two ladies together?
Of course, in true Washington fashion, the news of the weather was "oppressive," showing a temperature of 86 degrees in the shade and 80 degrees in the evening. Oh how lovely summers are in the District, and they're just getting warmer!
If you'd like to see the newspaper in full at the Library of Congress online, here's the link.