This is a guest post by John (from The Lion of Anacostia), cross-posted here.
The first black American seated as a member of the United States Senate was Hiram Rhodes Revels representing Mississippi. Revels filled the seat vacated by Jefferson Davis, who left to serve as the President of the Confederate States of America, truly the personification of Lord Byron's famous line in the long-form poem, "Don Juan," that "truth is stranger than fiction." Indeed.
According to Black Americans in Congress, "Revels arrived in Washington at the end of January 1870, but could not present his credentials until Mississippi was readmitted to the United States on February 23. Senate Republicans sought to swear in Revels immediately afterwards, but Senate Democrats were determined to block the effort. Led by Senator Garrett Davis of Kentucky and Senator Willard Saulsbury of Delaware, the Democrats claimed Revels's election was null and void, arguing that Mississippi was under military rule and lacked a civil government to confirm his election. Others claimed Revels was not a U.S. citizen until the passage of the 14th Amendment in 1868 and was therefore ineligible to become a U.S. Senator. Senate Republicans rallied to his defense. Though Revels would not fill Davis's seat, the symbolism of a black man's admission to the Senate after the departure of the former President of the Confederacy was not lost on Radical Republicans. Nevada Senator James Nye underlined the significance of this event: "[Jefferson Davis] went out to establish a government whose cornerstone should be the oppression and perpetual enslavement of a race because their skin differed in color from his," Nye declared. "Sir, what a magnificent spectacle of retributive justice is witnessed here today! In the place of that proud, defiant man, who marched out to trample under foot the Constitution and the laws of the country he had sworn to support, comes back one of that humble race whom he would have enslaved forever to take and occupy his seat upon this floor."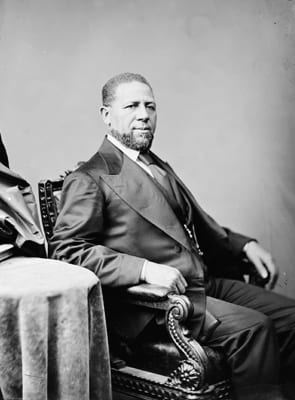 Up in the Senate Gallery that day, taking all of this in, was Charles R. Douglass. In a February 26th letter, to his "Father," Frederick Douglass, Charles wrote,
Yesterday was one of the greatest days to me, in the history of this country. I was present and listened to the dying groans of the last of the Democracy, it was on the occasion of administering the oath to H.R. Revels as U.S. Senator. The Democrats fought hard, but were met on all sides with unanswerable arguments on behalf of justice and right. The fight was on the citizenship of colored men. Even that dead & odious "Dred Scott Decision" was lugged in by the Democrats to show that blacks were not citizens, but Senators Scott of Pennsylvania, Drake of Mo., Stewart of Nev., Nye of Nev., Sawyer of S.C., Trumbull & many others knocked that decision higher than a kite, by their strong and logical arguments. Senator Wilson appeared to be the happiest man in the whole body not even excepting Revels, who advanced to the desk and took the oath in a very dignified manner. I hope that he may bear up under the new responsibilities, but I fear he is weak.

Many voices in the Galleries were heard by me to say, 'If it would only have been Fred Douglass,' and my heart beat rapidly when I looked into that crowded Gallery, and upon the crowded floor, to notice the deep and great interest manifested all around, it looked solemnly and the thought flashed from my mind that that honor, for the first time conferred upon a colored man, should have been conferred upon you and I am satisfied that many Senators would much more willingly see you come there than to see that Reverend gentlemen who has just taken his seat.

But the door is open, and I expect yet to see you pass in, not though, as a tool as I think this man is, to fill out an unexpired term of one year, earning from a state too that has a large majority – of colored votes; but from your native state to fill the chair for the long and fullest term of either Vickers or Hamilton – who only yesterday, made long wails and harangues against negro citizenship.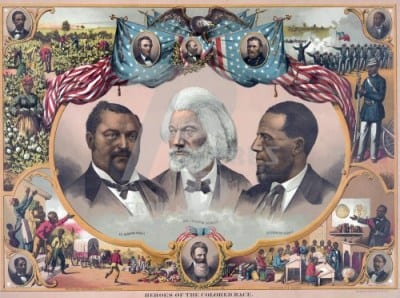 Frederick Douglass never did run for a seat in the United States Senate, nor was he appointed.
To this day there have only been six black American members of the United States Senate, five elected. Only three have served full-terms. The six are Revels (R) Mississippi, Blanche Kelso Bruce (R) Mississippi [full-term], Washington, DC's own Edward Brooke (R) Massachusetts [full-term, 2], Carol Mosley Braun (D) Illinois [full-term], Barack Obama (D) Illinois (vacated his seat when he won the 2008 Presidential race), Roland Burris (D) Illinois (filled seat vacated by Obama).
Related articles