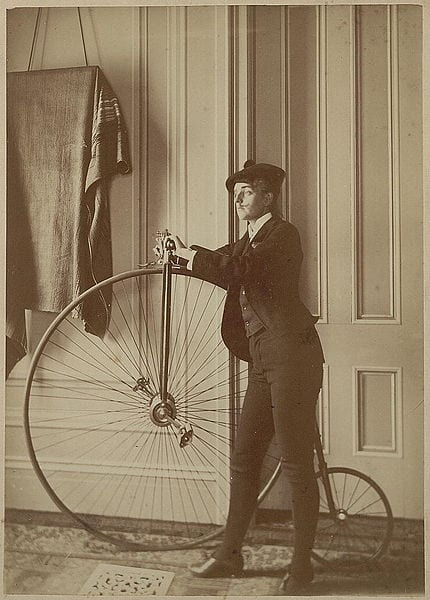 In honor of Women's History Month, Cultural Tourism D.C. put up the first of hopefully many Frances "Fannie" Benjamin Johnston posts on Tumblr. She was a prominent 19th century female photographer and Washington native.
Frances was born to wealthy parents and raised in the District in the late 19th century. After spending some time studying in Paris, she returned to the city and started exploring her true passion and nascent art form, photography.
Fannie received her first camera as a gift from George Eastman (i.e., the dude who invented roll film and founded Eastman Kodak … I think you've heard of him). The Smithsonian's director of photography, Thomas Smillie trained her in photography and dark room techniques (must be nice to have wealthy, connected parents).
[slideshow]
She left her collection to the Library of Congress upon her death in 1952 and it's a treasure trove of both amusing and stunning works of art. It's a great window into the lives of Americans a hundred years ago.
Take a look at this. I found an interesting mention of her in the Washington Post from October 9th, 1904.
MISS Francis Benjamin Johnston is doing jury duty in the department of photography at the World's Fair, a service she is well qualified to perform, for the reason that, beyond a wide knowledge of things photographic, she has also a thorough practical knowledge of painting. In the housebuilding [sic] number of Country Life, just issued, there are seventeen interesting plates from Miss Johnston's negatives of Mrs. Phoebe Heart's unique home at Verona, Cal. The house is a marvel of picturesqueness and simple beauty, a triumph of the late A. C. Schweinfurth, a master architect in adapting the Spanish style of artistic opportunities, of which, judging from the illustrations, the architect may be said to have made the most that was possible.
Oh, by the way, Phoebe Heart was the mother of William Randolph Heart and also a founder of the National Cathedral School.
Head over to Cultural Tourism's blog or Tumblr to read more about the great stuff they will be highlighting for Women's History Month.
Related articles