In December of 1905, Pat Garrett came to Washington to seek reappointment as customs collector in El Paso from his friend President Theodore Roosevelt. Unfortunately for Pat, he had lost his good standing with the President by associating with the low-life gambler and alcoholic Tom Powers of Wisconsin.
Garrett and Powers were attending a Rough Riders reunion in San Antonio with Roosevelt and Tom asked his friend Pat for an introduction to the President. Garrett obliged and they the three of them posed for a group photograph. Once Teddy learned of Tom's background he was incensed with Garrett for allowing an alcoholic gambler to associate with the President, sullying his reputation. Garrett's relationship with Teddy never recovered.
He was not reappointed to the post and lost the support of his politically influential allies, sending down the gradual path to destitution. He found himself back in New Mexico with money troubles, drinking problems and a gambling habit. In 1908, he was murdered over a land and animal grazing dispute.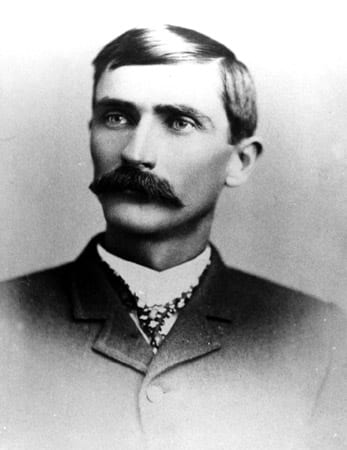 The Washington Post reported on his brief time here in Washington City that December.
The most casual reader of the human face might look on the strongly marked countenance of Capt. Pat Garrett, collector of customs at El Paso, Texas, and tell that he was a man of decided character and iron nerve. Capt. Garrett reached the city yesterday, and is stopping at the Shoreham. Many people wondered at his appointment four years ago, and some did not hesitate to say that the President had made a mistake in choosing the slayer of "Billy the Kid" to fill an office that required administrative talent and a good business ability. Yet it seems that Garrett has made a very efficient collector, and the business men of the thriving city of El Paso are so well satisfied with the way he has run the office that they hope he may be given a second term.
Garrett had the chance to meet with Roosevelt where Teddy did not reappoint him to the position and cut ties with him. In addition, he told Pat this was all the result of his associations with Powers. A few days after the first Post article, a second report painted a gloomy picture of the one highly regarded lawman.
Long, lean, and eagle-eyed "Pat" Garrett, whose six feet and four inches make him look about three inches thick, collector of customs at El Paso, Tex., who has been in this city for four or five days, will probably not be reappointed to the office he now holds.

Garrett was a Rough Rider, and killed "Billy the Kid," but he has lost standing with the political contingent that stood for his appointment four years ago, and the sliding board, it is believed, is ready for him. Ever since his interview with President Roosevelt a few days ago, he has been dejected. He no longer tries to watch all the doors opening into the rotunda of the New Willard, as if looking for the man trying to get the drop on him, and in other ways he shows the bitterness of defeat.

It is intimated that the coldness at the White House was increased by the fact that he took with him to the Rough Rider reunion last spring a saloon-keeper and gambler, who has never smelled gunpowder, except in a barroom brawl.