A curious Ghosts of D.C. reader posted on Facebook that she wanted to know why Syracuse has a house in Woodley Park. I too am curious each time I walk by the Greenberg House at 2301 Calvert St. NW. So I'm going to find out, as well as learn about the house's history.
This will be our first official "Reader's Choice" and another "If Walls Could Talk." It better be good.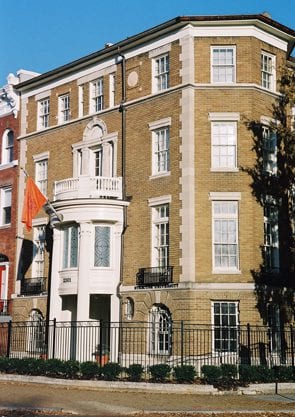 The university has a program in Washington called "Syracuse University in the Capital" and their school website gives some basic information on it. By the way, the Greenberg House is also on Twitter and Facebook, so check those out (after your read the full post of course).
Home to over 16,000 alumni, Washington, D.C. is known for many things: the point of origin for the nation's public policy, the home base for some of the most powerful men and women in the country, and a magnet for world attention. Located in the Woodley Park neighborhood of Washington, Syracuse has a presence in the nation's capital. The four-story facility was named with a gift from Paul Greenberg '65 and has been supported by gifts from alumni and friends.

The Syracuse University Paul Greenberg House serves a number of vital academic, alumni and recruitment purposes that opens doors to a variety of opportunities for students, faculty and alumni.
I like how the first sentence says we are a "magnet for world attention." Flattery will get you everywhere @SUinDC. Even for a university with 20,000 students, that seems like a large number of alumni in the city. I'm guessing that D.C. is the second most popular destination for graduates after New York City. That number is large enough for them to have an alumni club website.
Actually, I think the number should be corrected to 15,999 after the very unsuccessful tenure of Donovan McNabb, former Redskins quarterback and Syracuse alum (why do we insist on getting crappy old — or just lousy — quarterbacks to helm the team?).
Another thing I learned today … 35 study abroad students from Syracuse University were onboard Pan Am Flight 103 when a bomb brought it down over Lockerbie, Scotland. That is so sad. My uncle was a pilot for Pan Am and flew that route regularly. I vividly remember that day in 1988.
Sorry, I'm getting a little sidetracked. Let's get back to the house's history and see what I can dig up on the former residents.
The real estate mogul and an aspiring aviator in The Great War
Everything I read points to the house being built in 1913 and the resident at that time was Turner A. Wickersham (1853 – 1915) and his family. Turner was a successful real estate mogul in Washington in the early 1900s. The Wickersham's were originally from Indiana and were very influential in the D.C. Christian Science community. Prior to taking up residence in Woodley Park, they lived at 1101 15th St. NW — in a building that no longer exists.
Mr. Wickersham was quite well off because in 1913 he filed for a permit to install an elevator in his home at a cost of $2,050. And by well off, I mean rich, because elevators were not exactly common then and second, a typical home in Columbia Heights would cost about that much to built.
On February 4th, 1925, the Washington Post had an obituary for Elizabeth C. Wickersham (1862 – 1925). It stated that Turner predeceased Elizabeth and she lived at 2301 Calvert St. with their son Morgan and adopted daughter Jane G. Syme.
Morgan Wickersham is listed in the July 2nd, 1917 Washington Times as having been accepted to Cornell University, in return for volunteering for military services in The Great War.
Twenty-seven Washington young men, most of them collegians, have offered their services to the Government as members of them aerial corps, which will be sent to France as the "eyes" of General Pershing's army.

The Washingtonians have passed preliminary examinations and have been assigned to ground schools at several colleges. Later they will be sent to flying schools for further training. If successful in the second examination they will be commissioned first lieutenants of the aviation section of the signal corps.
Where Sooners gathered in D.C.
Did you know that there is an Oklahoma State Society in D.C.? Well I certainly did not, but they apparently have a website. I do have one Oklahoman friend here that will find this interesting. During World War II, the Oklahoma State Society occupied 2301 Calvert St. NW and on January 16th, 1944, they held an open house with honored guest Sergeant Jim Lucas, Marine Corps combat correspondent. He dispatched the first eyewitness account of the landing at Tarawa in the Pacific and was formerly a reporter for the Tulsa newspaper.
The Society also rented the place out as there are many advertisements for events in the building, such as an alumni meeting in the spring 1944 when the New Jersey College for Women (subsumed by Rutgers University in 1955) held their school's 25th anniversary celebration at the Oklahoma House.
A fraudulent university
In the 1940s Mount Vernon University of Washington was embroiled in a minor scandal covered by the papers. On October 17th, 1947, an article in the Post titles "FTC Charges School Here Sold Degrees" claimed that the university had been fraudulently awarding its degrees to students. The school had a presence in the Woodley Park building, but was based in Fort Worth, Texas. The building has four floors and two were used for academics, while one was used for dentistry and another as a sanatorium.
The FTC complaint termed the school's educational standards "wholly insufficient to satisfy minimum requirements of any standards in the educational field."

…

Other allegations, in substance, charged that degrees "were sold to students on the barest compliance with suggested courses and on wholly inadequate material and theses." In many instances, "honorary" diplomas and degrees were "sold for cash," usually for $50, the complaint stated.
Ouch, those are some harsh printed words and damning accusations … also, $50 for a degree? I hope nobody out there has a $50 degree from Mount Vernon University in Woodley Park, because it's probably not worth the paper on which it's printed.
A mid-century nursing home
Both the Washington Post and the Washington Times have numerous obituaries of D.C. residents that passed while in the care of the Mount Vernon Nursing Home Service (weird that the name is the same as the university — I'm guessing there is an obvious connection).
During the 1950s, the building served as a nursing home for local aging residents like Elza Heald. Mr. Heald's story in the March 1st, 1957 Post caught my attention.
This was a man born before Lincoln was president, headed west to take advantage of the Homestead Act, only to be forced back east due to untenable conditions on the prairies of Nebraska. He landed in Washington, took a position as a government bureaucrat and ended up living out his final days in Woodley Park at 2301 Calvert St. NW.
Elza Heald, 98, who homesteaded 160 acres near Gordon, Nebr., among the Sioux Indians in the 1880s, died Wednesday at the Mount Vernon Nursing Home Service, 2301 Calvert st. nw.

Mr. Heald was born in Bartlett, Ohio. After his marriage to the former Lenna Haines, of Zaneville, the young couple struggled for 10 years then gave up the homestead and moved to Blair, Nebr.

Mr. Heald often recalled that the Sioux, while they sometimes took tools or food, would always leave a buffalo robe or something of greater value than that taken.

He came to Washington in 1899 and held clerical positions with the War Department and the Treasury. He retired in 1929 from the office of the register of the Treasury.
Elza is a guy that probably had some incredible stories to tell from his days on the plains of Nebraska.
A tragic four-alarm fire
This was a shocking and detailed article to come across in the Washington Post from February 3rd, 1961:
The District Government was warned exactly three months ago that a doorway in the Mt. Vernon Nursing Home constituted a potential fire hazard.

A fire shot through the home Wednesday, trapping and killing seven aged patients on the top floor of the four-story brick building at 2301 Calvert st. nw. Seventeen others were injured, only one seriously.

The cause of the blaze, one of the worst in Washington history, remained a mystery late yesterday.
Wow, seven dead in one of the worst fires in D.C. history (don't forget the Mt. Pleasant fire of 2008). That is some tragic history attached to that house and it'll feel a little different the next time I walk by it.
The home was operated by Normund Leas and was one of 11 nursing homes in the District that had a license to operate. Among the nine casualties of the fire included Ira S. Moss, 63, a former Pentagon civil engineer … and Normund's father-in-law.
These seem to be the darkest days for the building as it ended up being boarded up for some time during the investigation and until at least 1965. Mr. Leas publicly stated that had no plans to reopen the nursing home after this tragedy.
A romantic dinner for two at The Talleyrand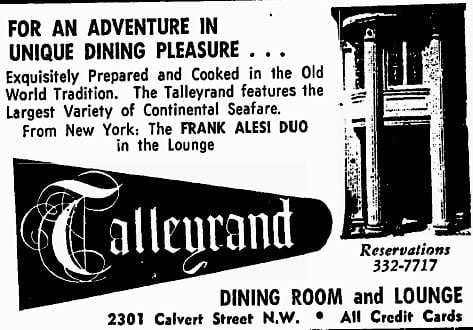 By the 1960s, the university was gone, the nursing home was no longer serving Woodley Park and 2301 Calvert St. was a find dining room and lounge. An advertisement in the July 18th, 1966 Post said the "Talleyrand features the largest variety of continental seafare," and also had live entertainment in the lounge (not to mention they accepted credit cards).
The establishment had fine dining, cocktails, dancing and live performances of jazz by groups like the Frank Hinton Trio, staying open until 1:30 a.m. (the guys from Swampoodle would party much later than that).
Here's a review of the restaurant from may 16th, 1971
President Garfield's town house has been converted into the Talleyrand. The service from maitre d'hotel to bus boy is a model. While not all-inclusive, the menu offers a range of seafood and meat dishes. The cuisine varies in quality. Lobster tails came off well. Steak diane in a thickened sauce was acceptable; it differed completely from the classical version. A beef ragout was made from good meat, but hardly memorable. A la carte average.
That is the opposite of a glowing review. The restaurant was billed as "just another dark, romantic club." It also only received one smiley face out of four, so this was probably not the place you wanted to take a date to impress her.
Also, Garfield's town house? How is that possible when he was assassinated in 1881 and the house was built in 1913? Maybe this is the same spot where the President's home once sat? This one doesn't make sense.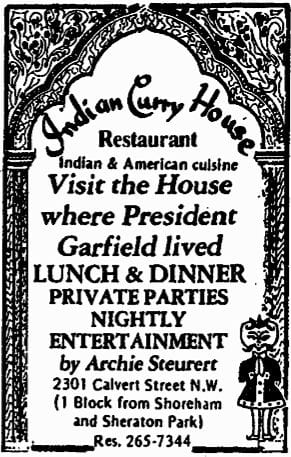 The building appears to have remained a restaurant through the decade and on into the 1970s. By then, the establishment was named the Indian Curry House (I'm sure you can guess the cuisine). It had a similar live entertainment schedule, just of a slightly different musical genre. The advertisements of the time also bill it as the former residence of James Garfield. If that's the case, it was some time between 1863 and 1881 when he was a member of Congress from Ohio.
Rolling into the 1980s, there are notices in the newspapers highlighting art gallery openings in the building, so the restaurant days were over. It was billed as the "Calvert Collection,"  a four-story mansion filled with antiques, paintings and fine art, capable of holding up to 250 people for events. A private party could be arranged for between $800 and $1,500.
Syracuse University
Okay, let's get back to the reason for this post … why is Syracuse University in Woodley Park?
In the late 1980s, Syracuse University pulled together a committee to find a location for the school's new satellite facility in the District. After reviewing a number of properties, they settled on 2301 Calvert St. NW as the property they would acquire.
At the time it was being used as an art gallery and a space for private parties by an antiques dealer. The university purchased it in 1988 with the help of a $1 million donation (of the total required $2.5 million) from Paul Greenberg, a Syracuse University graduate from 1965 and founder of Greenberg Realty Co. in Bethesda, MD. The dedication ceremony was presided over by former U.S. Senator Daniel Patrick Moynihan (D-N.Y.) at which time, the building was formally given the name Greenberg House.
So there you have it. That was a really long post, but some interesting stories in there about the life of this house … although I still can't figure out this James Garfield connection. I'll leave that for another post. Hope you enjoyed this one.
UPDATE: Our friendly reader @SUinDC volunteered to scan some old photos of the building to share. Here they are.